<![CDATA[In My Meditation Today: " Just Show Up" was the message in my meditation today as I battled two loud voices within, berating me for not completing what I had set out to do yesterday and ridiculing me for dreaming too big. If you heed the fears and doubts within – you lose focus, your energy splits, and a house divided against itself cannot stand – So IGNORE THE NAY-SAYERS & SHOW UP.
When I finished the posts about the Grand Story of the Divine Mother, I wanted to round the posts off by paying tribute to three of the most powerful women I had known. At the time, I thought the Grand Story of the Divine Mother was about Goddesses and women and women's empowerment.
It seemed fitting then to bring my interpretation of that myth to an end by chronicling the stories of these three powerful women who had been expressions of powerful goddesses in one way or another.
I have been conflicted about ending it that way for a long while. I felt the tributes were incomplete because I had not written one to my Dad. A tribute to him did not fit neatly into my idea of women & empowerment. On the other hand, leaving him out of the equation made no sense because he was so responsible for the person I am today. So, I decided to give up my idea of tying these posts into tidy bundles and follow my heart.
My father was an extraordinary human being. He lived the adage " Dare to Dream" and had a magical ability to hold onto that dream and maintain his focus no matter what anyone else said to him or about him.
The seventh child in a family of eight, my father never forgot the scary night when his oldest sister almost died from an asthmatic attack because of the lack of access to health care. A young man in school, when this happened, he decided that he would someday build a free hospital in his village.
I have called this his dream all my life, but as I write this, I realize it was less a dream and more a decision.
The picture of my father in this post shows him sitting inside the free hospital he built in his village.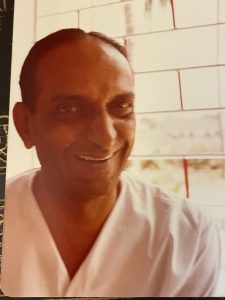 It took him many, many years to get here and several detours.
Along the way, he went from being a chemist in a factory that made Nivea cream to Managing Director of multinational companies and everything in between.
On the side, he was an entrepreneur who manufactured and sold shaving cream and dishwashing powder, tried his hand at exporting and importing goods, and finally settled on providing much-needed labor to the Middle East.
I list everything he tried because it shows how he kept showing up.
He never gave up.
He never reneged on the decision made all those years ago.
He just showed up.
He walked through each door that opened.
He put one step in front of the other.
He kept showing up.
Throughout this time, he weathered overt and covert criticism from family and friends.
He never bothered to defend his actions and never stopped talking about the hospital he would build, even when others scoffed at him. He just kept showing up.
I was approximately eight years old when he started his first business, and I was 15 when he finally hit the jackpot and became a highly successful businessman.
For the longest time, I had thought that my Dad's journey from an unsuccessful businessman to a successful one took forever.
When I recently narrated my father's story to a friend, I realized it took him seven years.  Seven years of ignoring naysayers, maintaining his focus, holding on to his dream, and just showing up.
Eventually, he donated the area & buildings to the Kerala state to be converted into the Institute for Communicative & Cognitive Diseases. The picture below is of the Chief Minister of Kerala, VS Atchudanandan, honoring him for his donation of the land & buildings which housed his precious dream to the state.
This institute was the first institute in Asia to implement multi-disciplinary management, research  & rehabilitation of cognitive & communicative disorders affecting all age groups.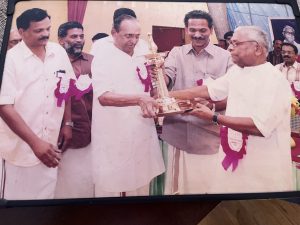 There is another lesson here. We dream & believe that our dream will manifest in a certain way. The way my father's dream morphed into ICCONS was something that he could never have imagined.
Perhaps the purpose of that nascent dream God planted within him was to create this facility. Even after he built that initial free hospital & clinic, he endured years of unexpected challenges. He still kept on keeping on.
ICCONS, Shornur is the legacy he left behind. A legacy that was way beyond his dreams.
That is the lesson. Our job is to dream &, put one foot in front of the other, and walk through every open door. The dream will manifest in ways we never imagined – we have to keep the dream alive – always.
As with my tribute to my grandmother, mother, and mother-in-law, this post hardly does his life justice.
Each of these lives deserves a complete biography. This post describes how his life and how he lived it continues to influence how I live and how I have encouraged my children to live their lives.
As I ended my meditation today and felt his presence all around me, I knew it was time to write this post.
It was time to thank my Dad and let him know we continued living as he lived.
We continue to  " Just Show Up" – day after day, month after month.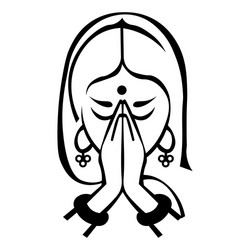 Click here to connect.